Are hardwood floors right for my Seattle home?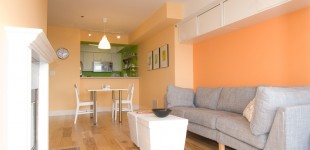 Hardwood floors re-invent a space and it's exciting to consider the many options to make your space its best. Economically speaking, hardwood floors are a wise investment, as your new floor will be installed to last the life of your home.
When considering hardwood floors for your home or commercial space, River Bend Custom Hardwoods will outline the process for you step by step.
If you currently have carpet, here are the best reasons to consider replacing it with hardwood flooring:
Clean. You simply can't get all of the dirt out of carpet. With hardwoods, you vacuum and spot mop and you have a floor that is perfectly clean. If you have pets, accidents can leave spots on a carpet that might come out visually, but the truth is down in the pad. With hardwoods, you can wipe up a pet accident within the day it happened and leave no trace or impact on the floor at all. And if a pet stain or leaky potted plant does damage the floor, the damaged area can be removed and replaced.
Durable Beauty. River Bend Custom Hardwoods helps you design a floor that will look great now, and CONTINUE to look great for years with only a simple cleaning schedule. The beauty of hardwood flooring is that with a dry mop, vac, and a damp mop you can keep it looking perfect.
Economical. Hardwood flooring is akin to a brick or stone fence, or metal roof. It's a lifetime product. And its best value lies in the number of times you can refinish it. A new floor is really 3-5 'new floors' in one. Refinishing gives you the option to stain the floor a new color, install decorative inlays, or seamlessly expand the floor into adjacent rooms. A hardwood floor is a renewable resource, right under your feet!
Learn more about services for new hardwood floors.
Request a quote