For you, Seattle: The Perfect Hardwood Floor.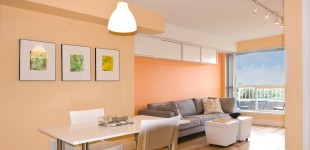 Hardwood flooring is our passion, and we have a great time working together to build your flooring solution; watch us work and you'll understand.
Our attention to detail, our commitment to great customer service, and our sharp punctuality set us apart from other flooring contractors.
River Bend Custom Hardwoods provides the following services for existing hardwood floors:
Hardwood floor refinishing. We restore your floors to perfection by sanding, filling cracks, and coating with the best finish on the market.
Floor maintenance & spot repair. Scratches, dents and scuffs can be unsightly and we have tools to repair or visually minimize these problems without a full restoration.
Buff and coat. Minimize or completely eliminate wear by adding a fresh coat of our best finish. This is a great option to add life to your floors, and also perfect if you're getting ready to show your house and want to add a wow factor.
Request a quote   Learn more about services for existing hardwood floors
We provide the following services for new hardwood floors:
Complete design and install of new hardwood flooring. Guiding you through selecting wood species, optional stain color, finish, and type of flooring system is our pleasure. We can do it all, from demolition of your current floor, repairing old and squeaky subfloors, to installation of your new hardwoods.
DIY consulting. You have a lot of options ahead of you, and we can provide step-by-step consulting to help  you plan, execute, and finish your new floor – and we're always available to answer questions or provide hands on help.
Detailed Finish Carpentry Skills. From molding installation to…. add more here.
Request a quote Learn more about services for new hardwood floors